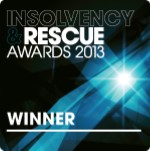 We are delighted to announce that Moorhead Savage founder Paul Moorhead has won a major award at the Insolvency & Rescue Awards 2013.
Paul, who founded Rotherham business advice practice Moorhead Savage four years ago and is Britain's only qualified insolvency practitioner with a PhD in Insolvency Law, was given the accolade in the Small Firms category of the prestigious 2013 Insolvency and Rescue Awards.
Insolvency practitioners, lawyers, bankers and debt managers were among the 700 guests at the ceremony, which was held at the Lancaster Hotel in the heart of London's West End.
"This award reflect my breadth of expertise in dealing with a wide range of financial problems affecting businesses in a still tough commercial environment," said Paul, who was also a finalist in the Personal Insolvency Practitioner of the Year category.
"I was absolutely delighted to have been named as a finalist in these awards and to actually win one of the top prizes against such touch competition across the country is extraordinary and makes the past four years all worthwhile.
"I would like to thank my team for their support over the past four years and I am very grateful to receive this recognition for the hard work that we have all put in."
The Insolvency and Rescue Awards, now in their sixth year, are widely regarded by the industry as the most prestigious awards scheme in the insolvency and rescue sectors and attract entries from across the profession.